chocolate duets q&a
tiany kiriloff & els keymeulen
Meet our ambassadors Tiany Kiriloff and Els Keymeulen. Tiany is a born fashionista and one of the first Belgian influencers. Els is fashion and beauty director of Feeling Magazine. They complement each other like no other and they got to try our Chocolate Duets in avant-première. Take a look behind the scenes and find out more about this iconic duo and their love for Belgian chocolate.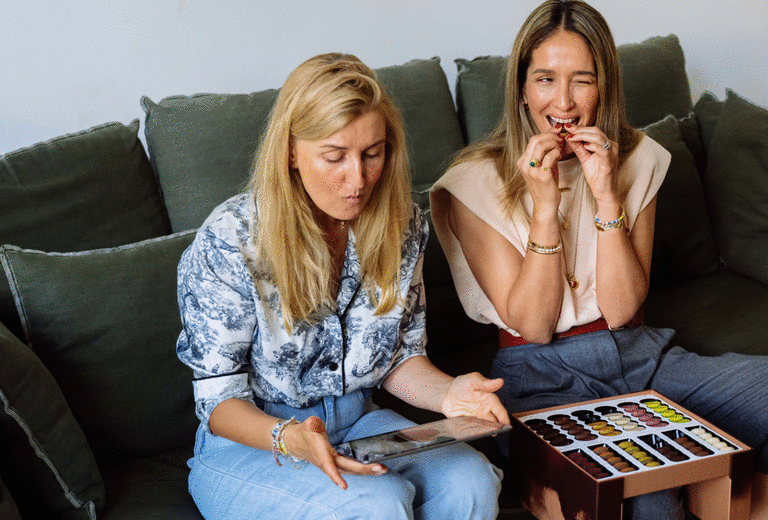 What makes you a good duo?
Els: "We share the same passions; we understand each other without using many words and we literally and figuratively have the same taste. For example, we often buy the same clothes and shoes without knowing it from each other."
Tiany: "It seems that we think in the same way and complement and feel each other well. We have the same sense of humour and taste in fashion, so we regularly show up somewhere in matching outfits without it being planned."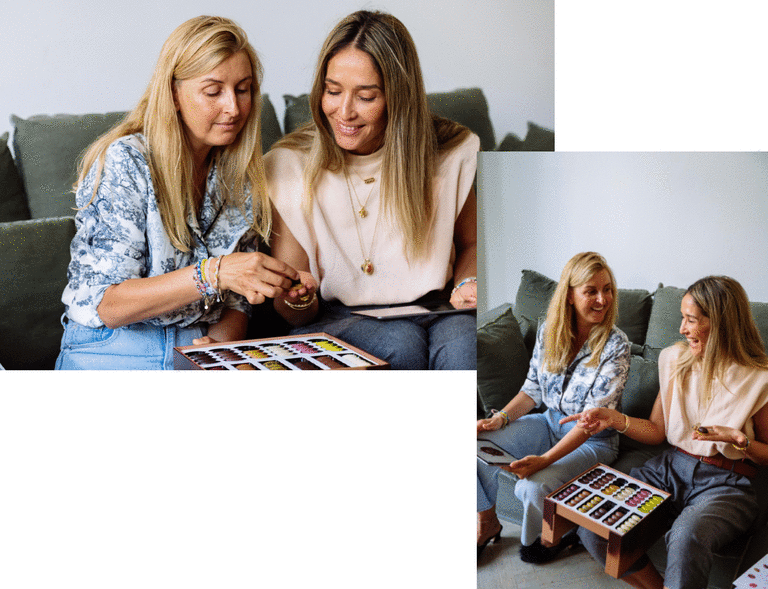 What's your strength as a duo?
Els: "It is always nice when we are together: we have fun everywhere and always; we can have a great laugh with each other and don't take ourselves and fashion too seriously."
Where do you complement each other?
Els: "Most of the time Tiany is the image and I'm usually the sound."
Tiany: "In shopping lists, deciding on certain items on our wish list, coming up with the ideal birthday present for each other!"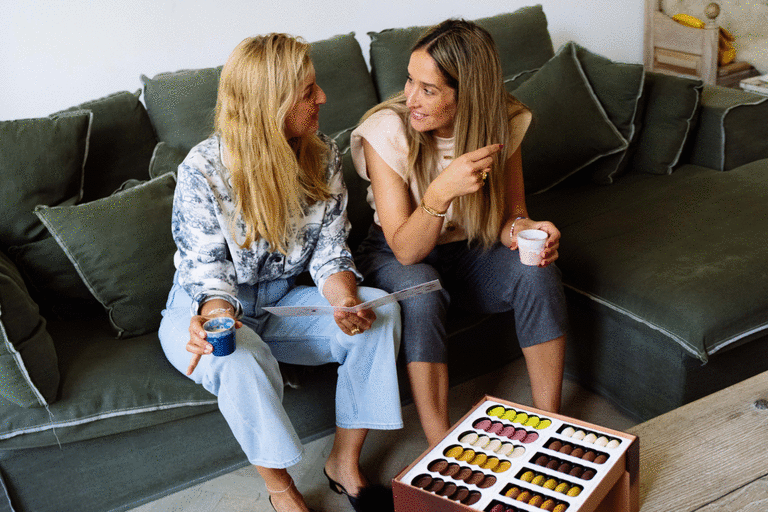 What's your favourite Chocolate Duets combination?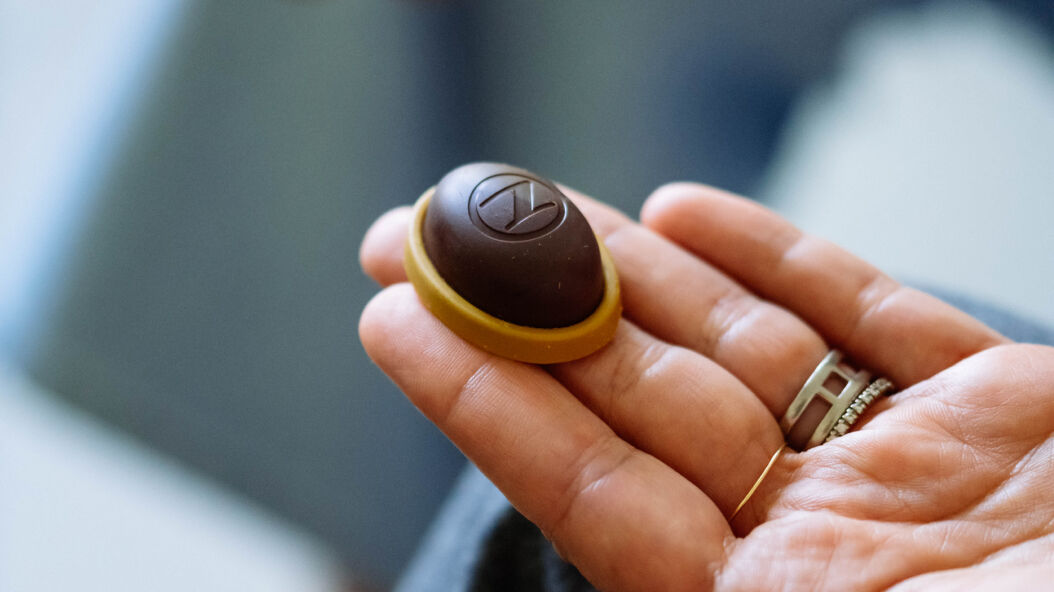 TIANY KIRILOFF
hazelnut praliné + caramel
"I prefer crunchy! The hazelnut praliné topping with a caramel base."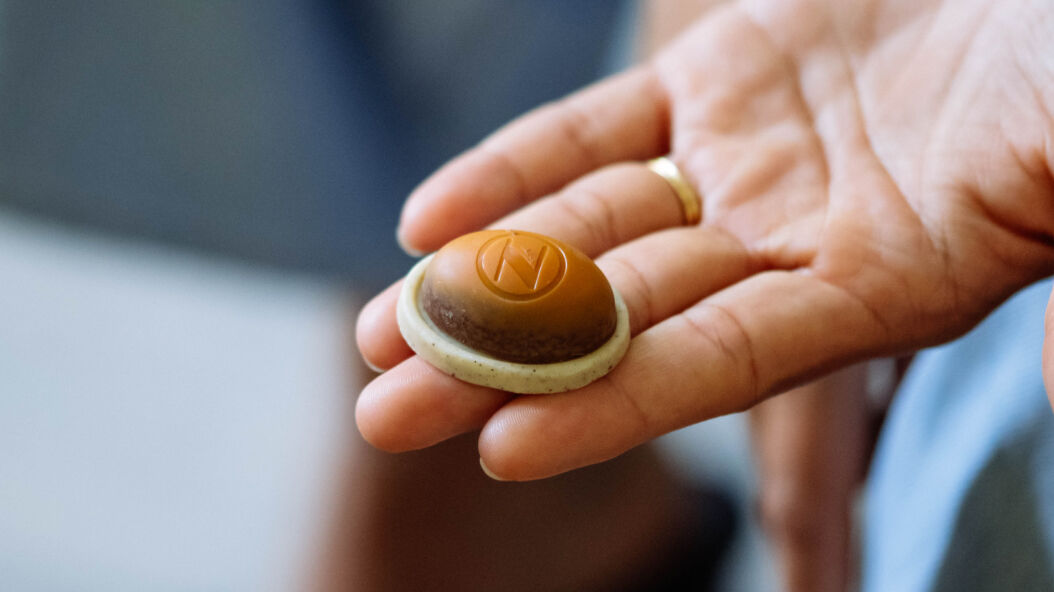 ELS KEYMEULEN
Venezuela ganache (45% cacao) + vanilla
"I'm afraid I've tried them all and liked them, but if I can only choose one: A vanilla base with the Venezuela Ganache topping."

What was the most surprising Chocolate Duet?
Els: "Hmm I have to say that the lime base surprised me: matches very well with the Costa Rica ganache topping and it also colours beautifully together."
Tiany: "The lime and vanilla bases provided the most surprising combinations for me, but actually all combinations were quite pleasant and surprising!"
Which Chocolate Duet combo would you put together for the other one, based on her personality?
Els: "Based on her personality? Tiany is fierce, so it could be a Southern ganache - Venezuela, for example. As a base, I choose caramel; deliciously sweet and very addictive. Just like Tiany herself, actually."
Tiany: "Almond praline + coffee = Els is a fan of her cup of coffee and she likes it crunchy. This also reflects her personality: a bit spicy + crunchy :)"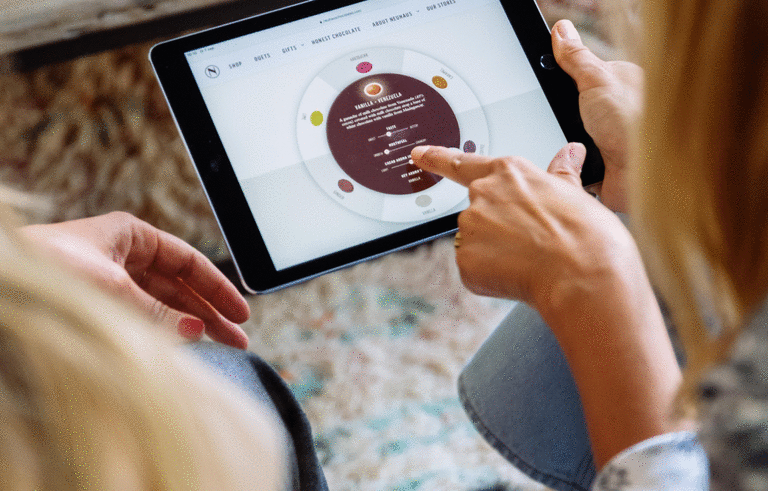 When do you enjoy a Neuhaus chocolate the most?
Els: "In the evening, on the couch after a long day of work, with a coffee in a nice cup. After the children have gone to bed, because, no, they don't need to know everything."
Tiany: "After a shopping spree with a glass of champagne, blissful! Because then we've worked hard and so we definitely deserve it."
What's a good occasion for you to bring out the Chocolate Duets?
Els: "Any occasion is good for chocolate, but the Duets certainly help to end an evening on a fun note with friends, for example. Kind of like a board game for adults, but much more fun."
Tiany: "All occasions, right?"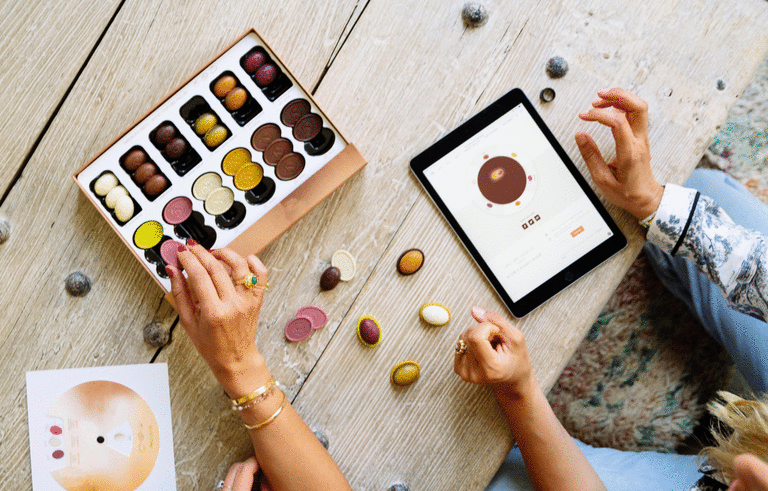 Why do you choose Neuhaus?
Els: "Belgian chocolate is the most delicious in the whole world; Neuhaus adds a layer of luxury that I am quite sensitive to. At home, everyone chooses Neuhaus: us, the kids, Santa Claus and the Easter Bunny. ;-)"
Tiany: "Neuhaus is Belgian quality, you can taste the craftsmanship. Everything is presented in a very stylish way and that attracts me. The flavours are refined, they are also the inventors of the praline, so real OGs."
Meet ambassadors Jill Vandermeulen and Jenna Peij. Jill, a French-speaking Belgian TV columnist, influencer and former singer. And sister Jenna, a professional model and influencer, both equally fond of Belgian chocolate. Get a glimpse behind the scenes and discover more about this sister duo and their Chocolate Duets experience.