An almond praliné with a paste of roasted sunflower seeds, lemon from Spain and lime, finished with white chocolate.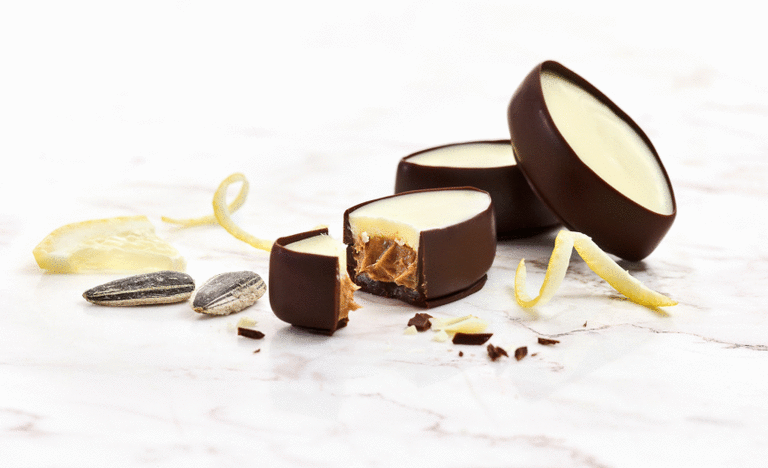 TO BE PAIRED WITH
'EXTRA'-BRUT CHAMPAGNE
Brut and 'Extra'-Brut Champagne have a pure character, between 0 and 6 grams of residual sugar per litre. The lower the dosage or the dryer, the more pure, natural and sleek the Champagne will taste. 'Extra'-Brut' Champagnes are medium to complex Champagnes with a fresh aperitivo character, citrus flavours and white fruits of which mostly apple notes that give the Champagne a pleasant sour balance.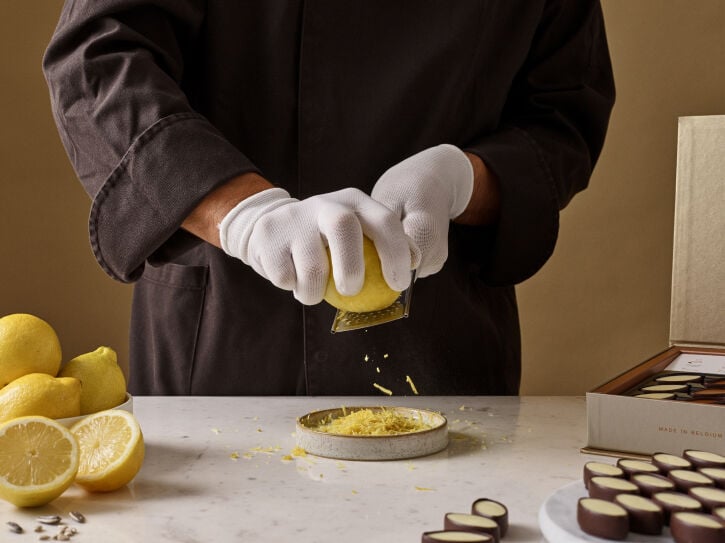 PAIRING EXPERIENCE
'EXTRA'-BRUT CHAMPAGNE
This praline matches perfectly with pure 'Extra'-Brut Champagne. First experience the note of roasted sunflowers subtly supported by a soft almond praliné and white chocolate. Simultaneously savour the refined and fresh touch of Spanish lemon. These emphasize the interplay between the flavours of the 'Extra'-Brut Champagne and the chocolate. The soft citrus perfume embraces the art of dangling: gradually and organically, the sourness strengthens the praliné, the white chocolate and the 'Extra"-Brut character of the Champagne.