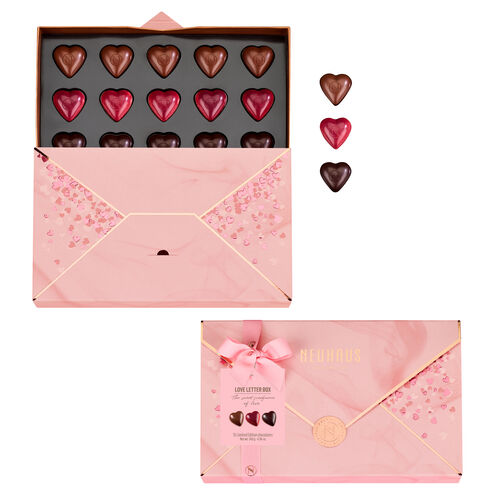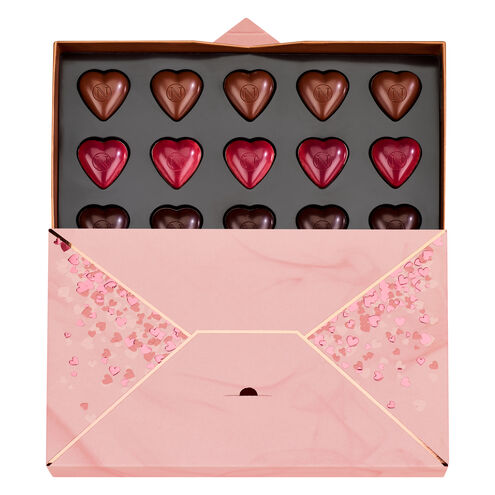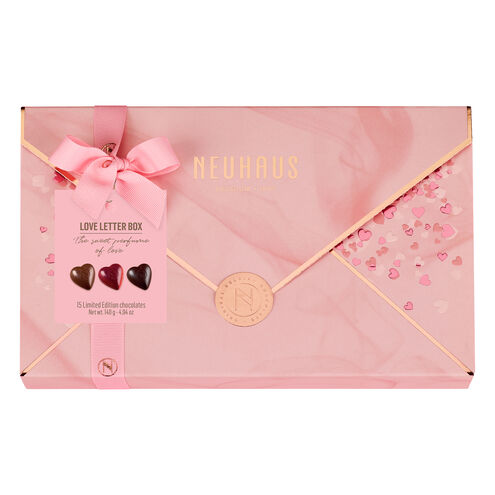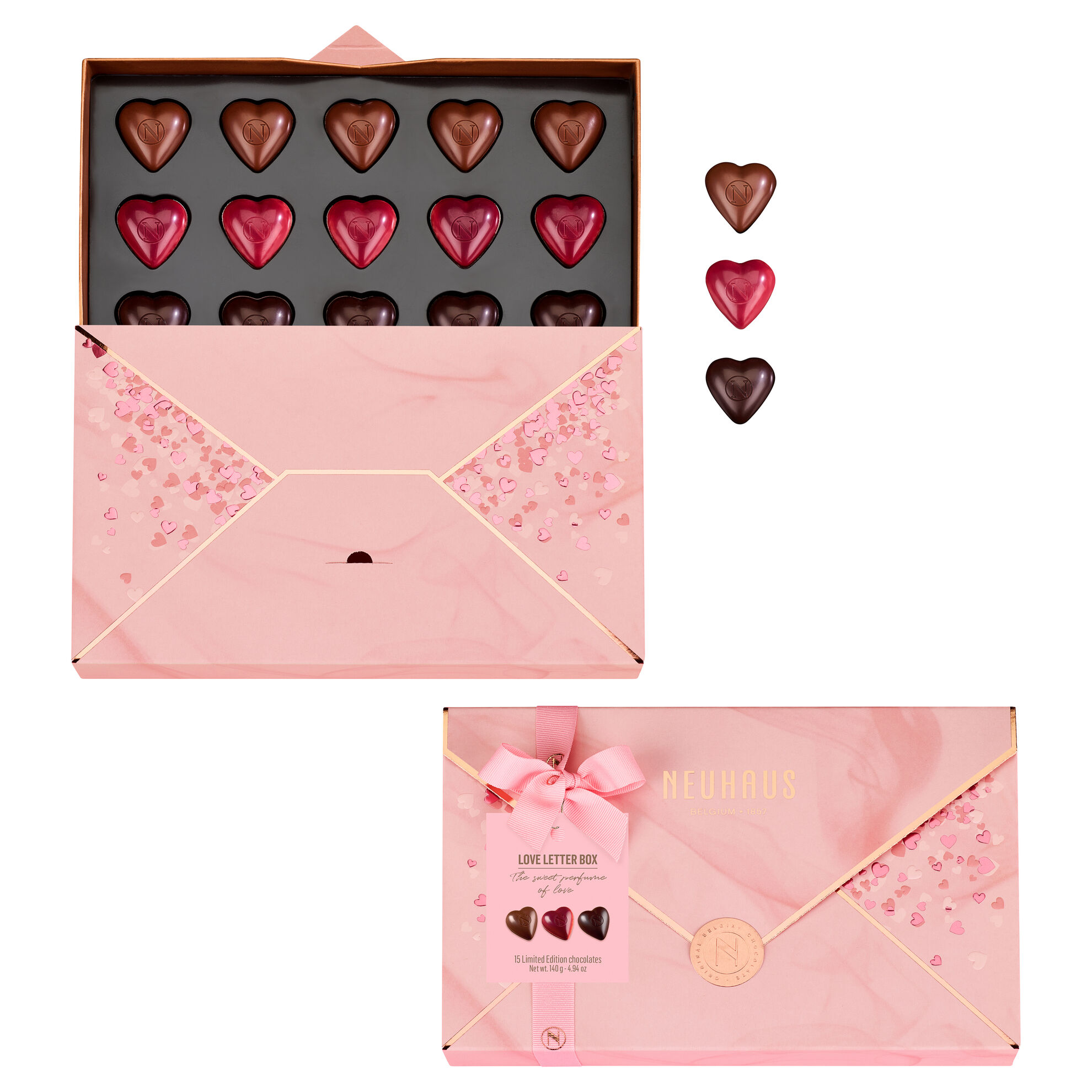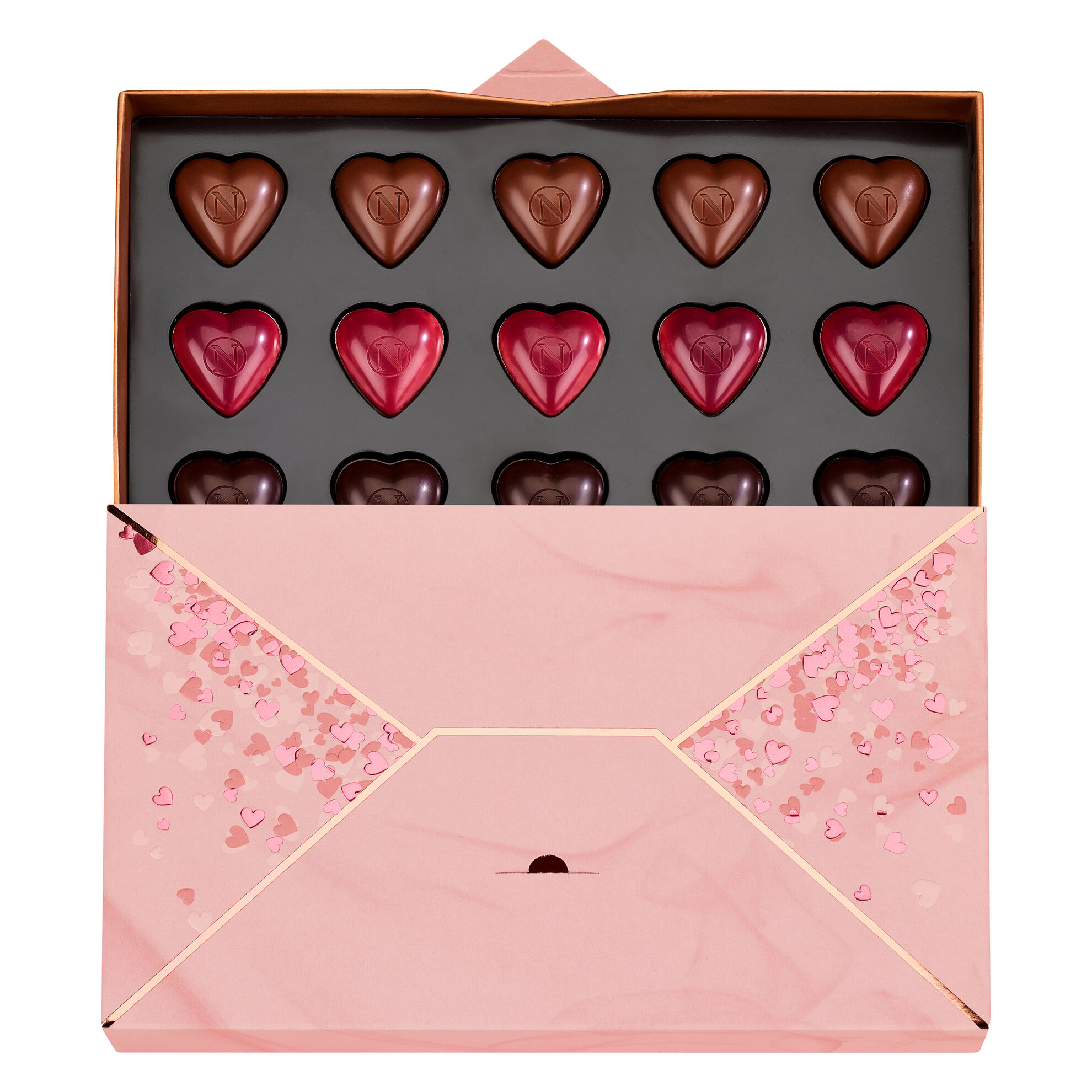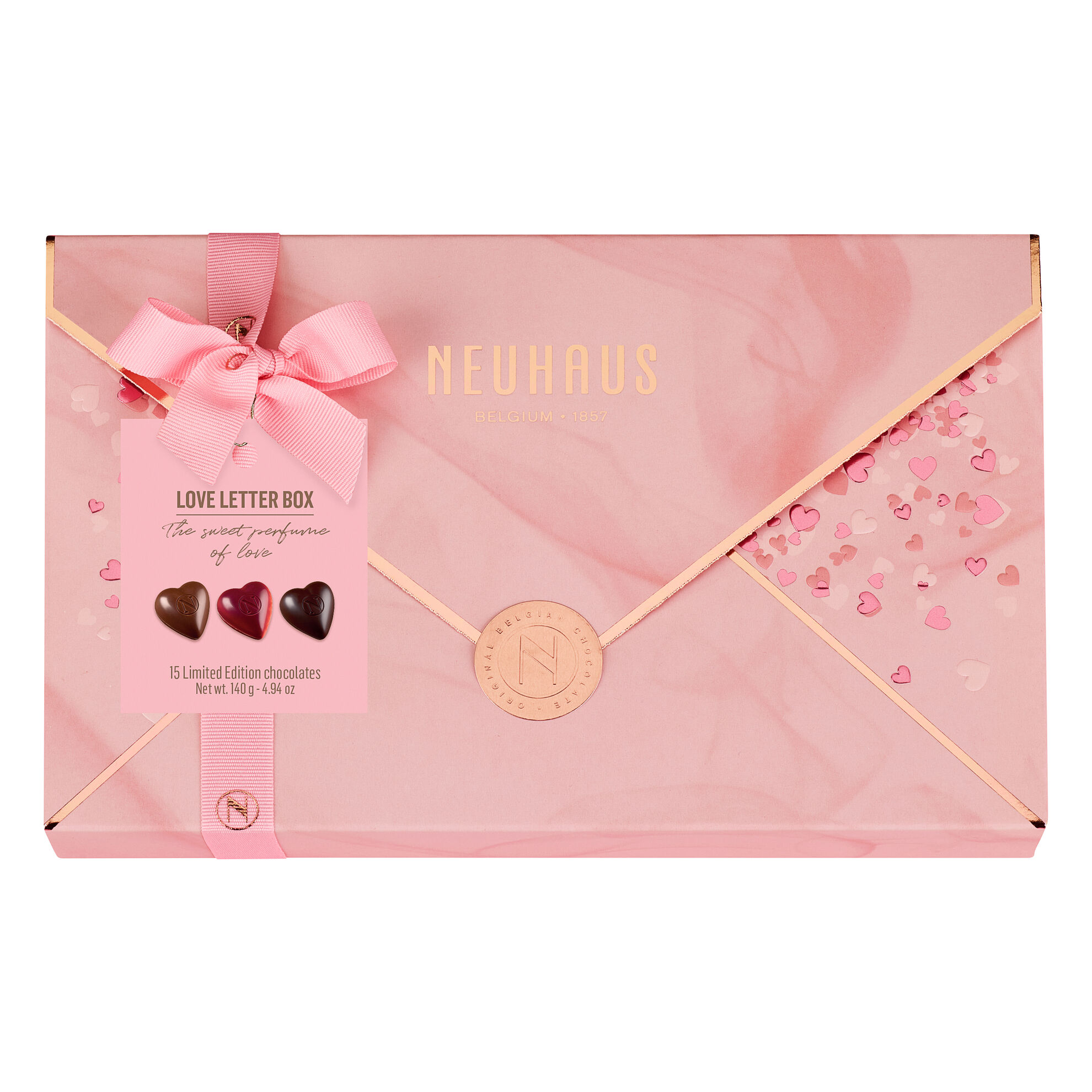 The limited edition Love Letter Box (140G) contains 15 heart chocolates in milk, dark & white chocolate. Belgian Michelin star chef Arabelle Meirlaen used her passion for perfume as the base to create 3 chocolate hearts: Milk Almond Sesame; a milk chocolate heart filled with a praliné of almonds, green tea and roasted sesame seeds. Dark Bergamot Chili; a dark chocolate heart filled with ganaches of bergamot and lavender with a hint of Chili. Red Cherry Hazelnut; a white chocolate heart filled with ganache of cherries and praliné with Piedmont hazelnuts. The perfect gift for chocolate lovers or ideal to enjoy yourself.
milk chocolate (sugar, whole milk powder, cocoa mass, cocoa butter, emulsifier: soy lecithins, flavour), dark chocolate (cocoa mass, sugar, butter oil (milk), cocoa butter, emulsifier: soy lecithins, flavour), white chocolate (sugar, cocoa butter, whole milk powder, emulsifier: soy lecithin, flavour), sugar, stabiliser: sorbitol;hazelnuts, shea butter, coconut fat, humectant: glycerol;cream (milk), almonds, cherries, bergamot, cocoabutter, invert sugar syrup, dextrose, colour: apple concentrate,blackcurrant concentrate,radish concentrate, spirulina extract;skimmed milk, sunflower oil, sesame seed, hazelnutoil, Yunnan tea, Matcha green tea, water, acid: citric acid; emulsifier: soy lecithin;flavours, vanilla, chili peppers, salt (Guérande), cinnamon.
Nutrition facts - 100g Energy: 2218.25 kJ, Energy: 531.41 kcal, total fat: 34.56 g, of which saturated: 20.20 g, of which mono-unsaturated: 11.31 g, of which poly-unsaturated: 1.36 g, of which trans fat: 0.35 g, cholesterol: 17.05 mg, carbohydrate: 47.16 g, dietary fiber: 4.37 g, of which sugar: 42.24 g, protein: 6.41 g, sodium: 54.35 mg, vitamin A: 17.58 µG, calcium: 136.79 mg, vitamin C: 0.32 mg, iron: 6.35 mg, salt: 0.14 g, vitamin D: 1.04 µG, potassium: 421.11 mg, of which added sugars: 36.73 g
What's inside the box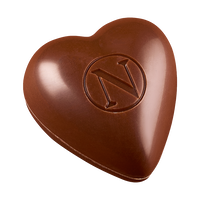 MILK ALMOND SESAME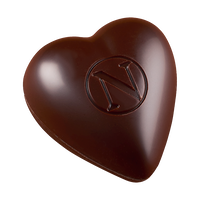 DARK BERGAMOT CHILI
RED CHERRY HAZELNUT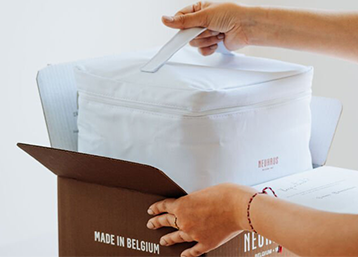 We designed special boxes to control temperature during warmer days and protect the chocolates all the way to their destination.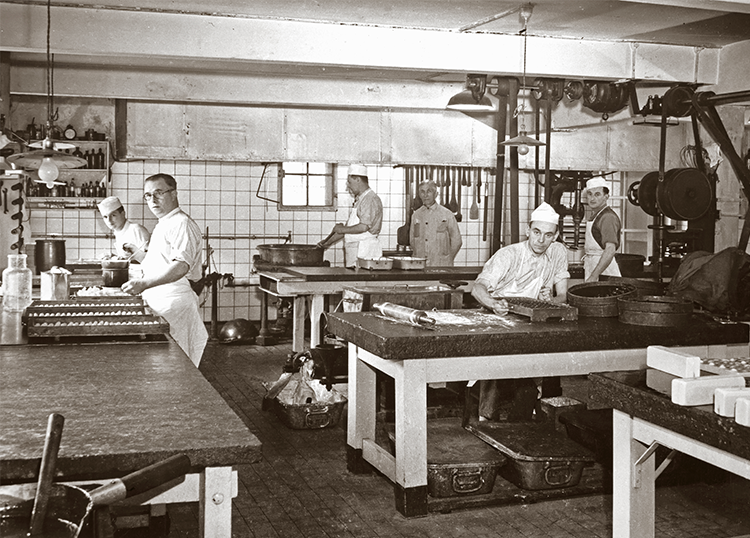 All our pralines and truffles have always been crafted with care in Belgium and it's our firm commitment to keep it that way.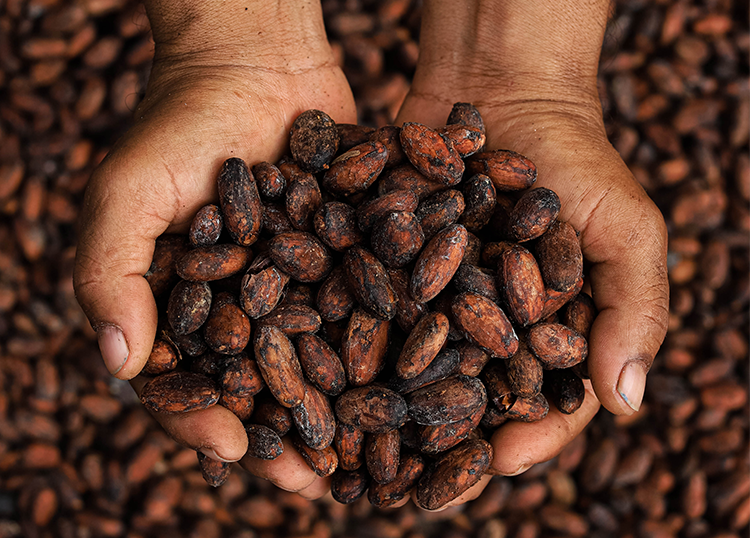 All our cacao is sustainably sourced. We also invested in a cacao farm in Ecuador in order to work directly with cacao farmers to ensure traceability and quality.
6LdTcsIcAAAAAGbsPK6LALOBjYCdTsMN3lpMHw06