Certified cocoa: 100% sustainably sourced
Our cacao beans have two origins: Ecuador and West Africa. The Ecuadorian beans are harvested from our own cacao farm and are certified by Rainforest Alliance Identity Preserved, the world's most renowned label for sustainably sourced cocoa. The Rainforest Alliance certification program enables farmers to use better farming methods, grow better crops, and generate more income. For African beans, we work with renowned suppliers who each have their own program (Cocoa Promise and Cocoa Horizons) to ensure continuous improvement in the sustainability of the cacao farms.
In addition to using 100% natural ingredients and 100% sustainably sourced cocoa, all of our cacao beans will be 100% traceable by 2025 and will comply with the strict norms governing people and the environment.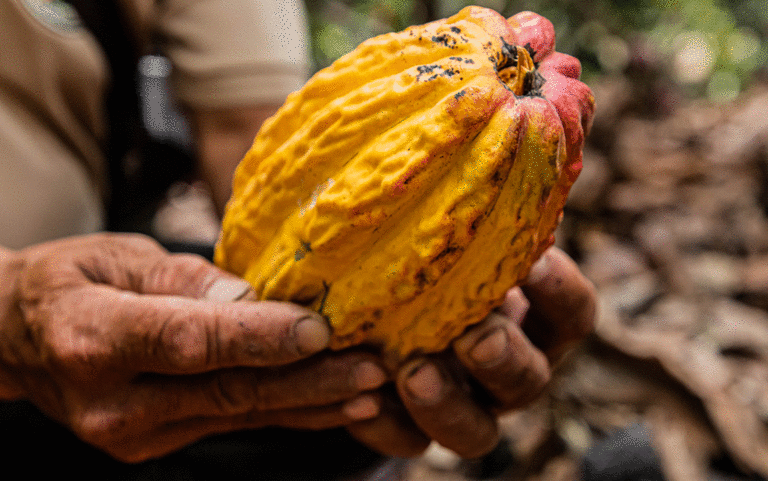 the number of cacao trees on our farm

the average number of cacao trees per hectare

the average number of beans in a cacao pod

the number of cacao beans needed to produce 100 g of chocolate with 70% cocoa
We invested in a cacao farm in Ecuador
We have invested in a cacao farm in the Guayaquil Region of Ecuador, where several hundred of acres have been dedicated to our own cacao beans. The environment in South America is ideal for growing cacao trees. The climate, the quality of the soil and the exceptional know-how of the local farmers guarantee the superior quality of our chocolate. Better than anyone else, our cacao farmers master the fermentation process that releases the characteristic aromas of the cacao beans and gives our chocolate its unique and distinctive personality, richness and flavour.
our cocoa journey
Cacao beans naturally have a bitter taste and must first go through several stages to develop the best flavour. Discover step by step how the beans picked from the trees are transformed into the delicious Neuhaus chocolates we know.