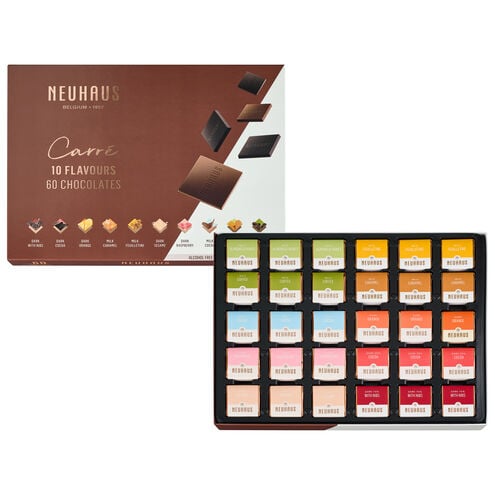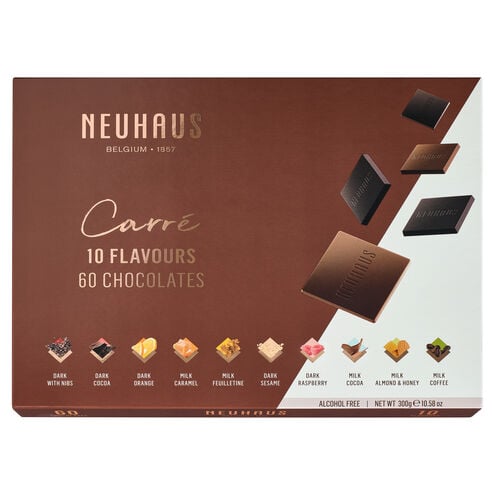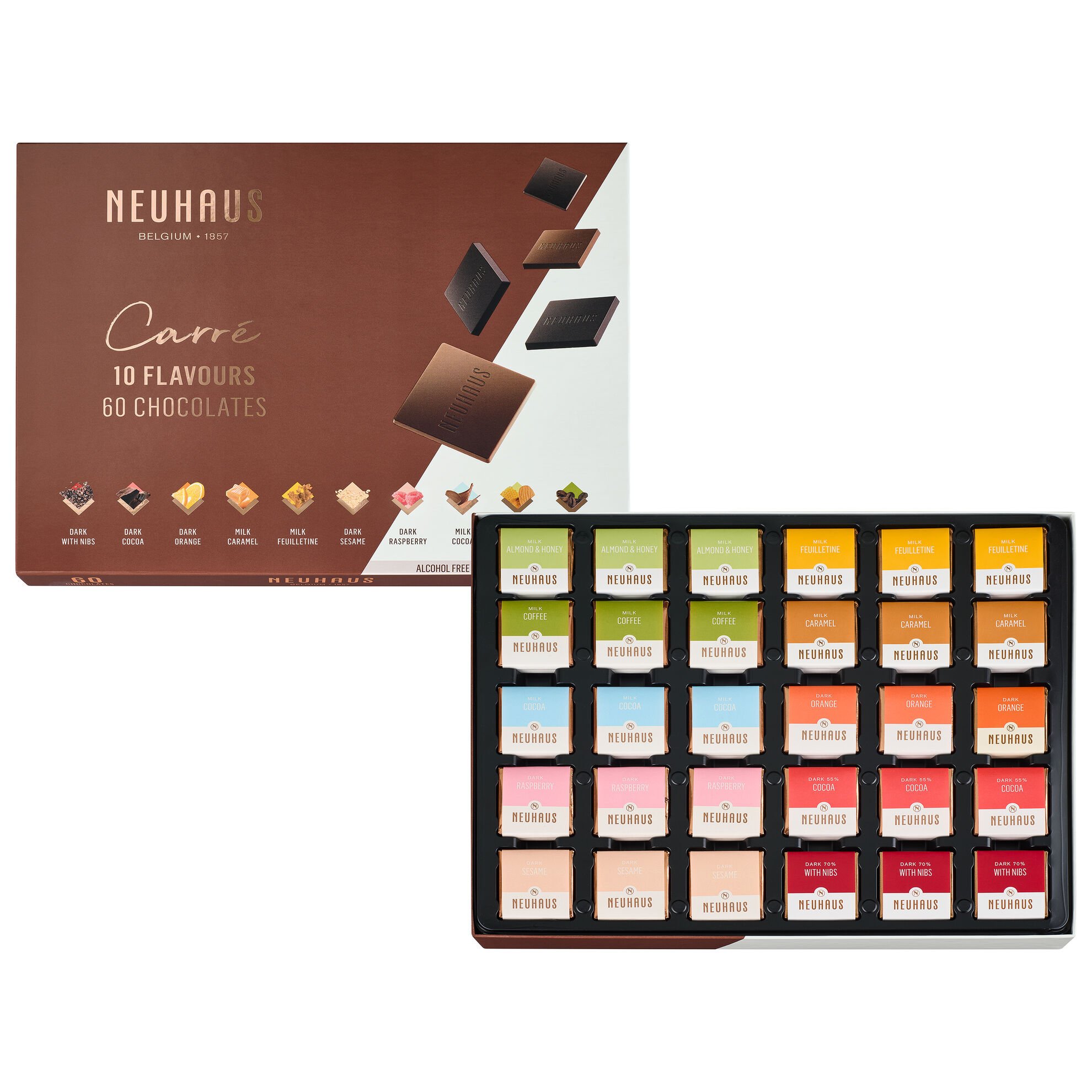 Carré 10 Flavours Box (300G) contains 60 individually wrapped dark and milk Neuhaus chocolate Carrés. The best of dark and milk chocolate combined in one treasure box: discover intensely dark chocolate with nibs, sesame, orange and raspberry flavour, or plain dark chocolate. Those who are looking for a milk chocolate taste experience will be pleased to find milk chocolate with caramel, feuilletine, almond-honey, coffee or simply milk chocolate. All our chocolates are made in Belgium with sustainably sourced cocoa. Every ingredient we use is of natural origin, non-GMO and without palm oil.
milk chocolate (sugar, whole milk powder, cocoa mass, cocoa butter, emulsifier: soy lecithin, flavour), dark chocolate (cocoa mass, sugar, butter oil (milk), cocoa butter, emulsifier: soy lecithin, flavour), dark chocolate (cocoa mass, sugar, cocoa butter, emulsifier: soy lecithins, flavour), caramel bits (sugar, glucose syrup, whole milk powder, fresh cream (Isigny) (milk), salted butter (Isigny) (milk), salt (Guérande), emulsifier: rapeseed lecithins), sesame seed, feuilletine (wheat flour, sugar, sunflower oil, rapeseed oil, butter oil (milk), lactose , milkproteins, salt, malted barley flour, raising agent: sodium carbonates, emulsifier: sunflower lecithins), caramelised almonds (almonds, sugar, caramelised sugar), raspberry (sugar, raspberry, tapioca starch, raspberry juice concentrate), candied orange (orange peel, sugar, glucose syrup, acidity regulator: citric acid), cocoanibs, coffee, flavours, honey, maltodextrin, salt (Guérande).
Nutrition facts - 100g Energy: 2238.80 kJ, Energy: 535.70 kcal, total fat: 33.94 g, of which saturated: 20.12 g, of which mono-unsaturated: 10.84 g, of which poly-unsaturated: 1.21 g, of which trans fat: 0.32 g, cholesterol: 16.28 mg, carbohydrate: 45.54 g, dietary fiber: 7.07 g, of which sugar: 42.65 g, protein: 7.80 g, sodium: 69.45 mg, vitamin A: 22.74 µG, calcium: 134.57 mg, vitamin C: 0.05 mg, iron: 6.36 mg, salt: 0.17 g, vitamin D: 0.82 µG, potassium: 581.62 mg, of which added sugars: 38.13 g
What's inside the box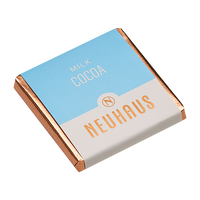 CARRÉ MILK COCOA 35%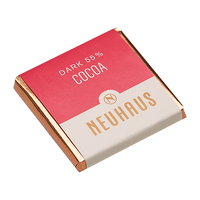 CARRÉ DARK COCOA 55%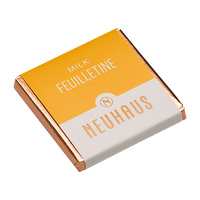 CARRÉ MILK FEUILLETINE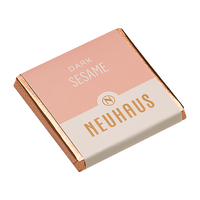 CARRÉ DARK SESAME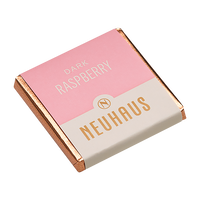 CARRÉ DARK RASPBERRY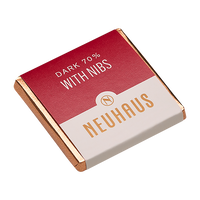 CARRÉ DARK 70% WITH NIBS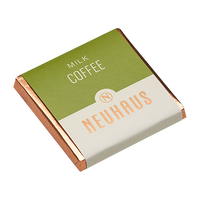 CARRÉ MILK COFFEE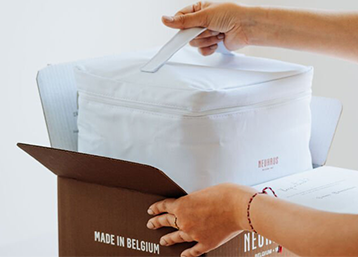 We designed special boxes to control temperature during warmer days and protect the chocolates all the way to their destination.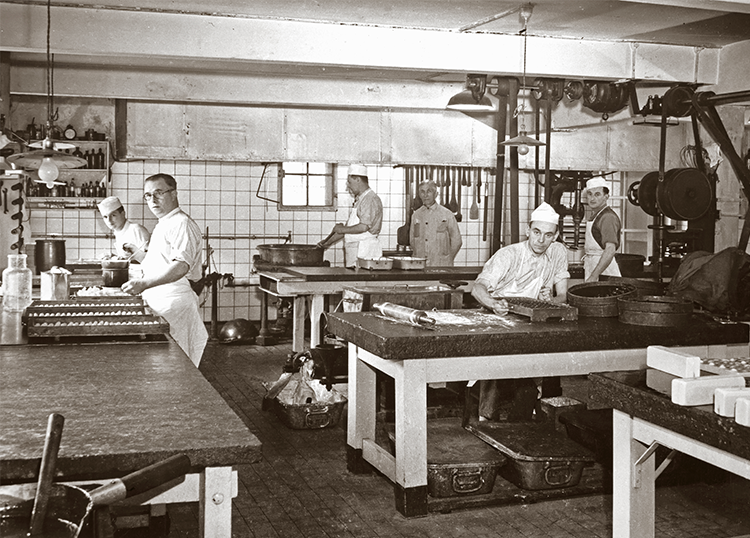 All our pralines and truffles have always been crafted with care in Belgium and it's our firm commitment to keep it that way.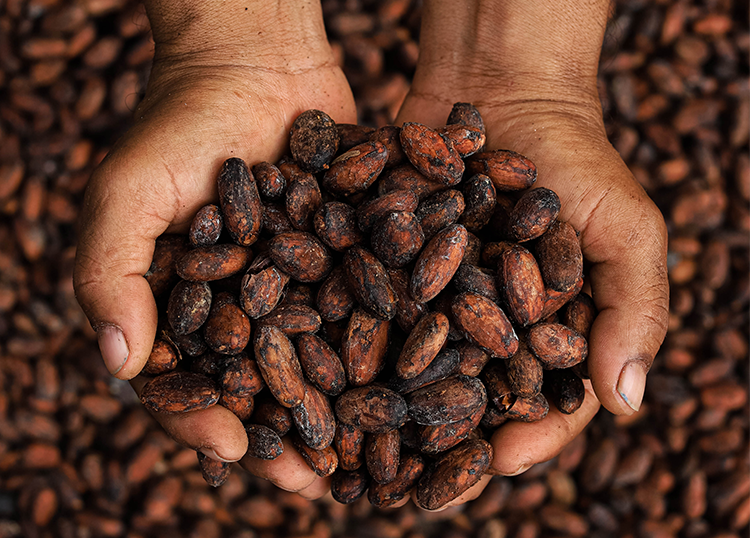 All our cacao is sustainably sourced. We also invested in a cacao farm in Ecuador in order to work directly with cacao farmers to ensure traceability and quality.
6LdTcsIcAAAAAGbsPK6LALOBjYCdTsMN3lpMHw06